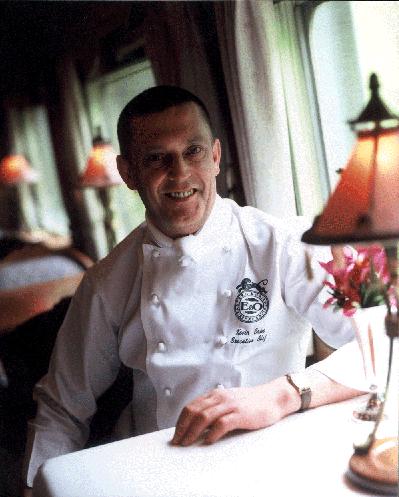 AUTOBIOGRAPHY
Kevin Cape, Executive Chef on the Eastern & Oriental luxury train, has varied background in the hospitality industry, one that includes to level training in both European and Asian cuisines.

English-born Kevin is graduate of the Crawley College of Technology. Upon completion of his apprenticeship at Reigate Manor in Surrey he moved to the Portman Hotel in London, where he worked under the expert guidance of Felix Muntwyler. following an assignment in America at the Castle Restaurant in Massachusetts he then took up a position at the Connaught Hotel, where he remained for eight years and found his mentor in the legendary Michel Bourdin, the Executive Chef.

Here he learned the fundamentals of classic French and British cooking and at the age of 27, the youngest at the Connaught Hotel, he was promoted to be the first British Executive Sous Chef, an honour that attested to his growing skills. He broadened his experience by working in France with number of great chefs and represented Britain as a National Chef in several competitions, among them the Prix Pierre Taittinger in 1984 and the Bocuse d'Or in 1987.

At the same time, he was developing his interest in cuisines in Asia. "I was taught very strictly by Monsieur Bourdin", he was once quoted as saying, "that I was a little rebel who wanted to learn something different:. To assuage his curiosity he spent his spare time cooking in London's Chinatown and in one of the country's then few Malaysian restaurants.

In 1987 deciding it was a time to branch out on his own, he accepted an appointment as Executive Chef at the Bell Inn, Aston Clinton. Here he expanded his research into Asian cuisine and became well known for his innovative style. Visits to Asia as a guest chef at the Pan Pacific Hotel in Kuala Lumpur and the Mandarin Hotel in Singapore helped in this process.

From 1991-1993 he was an Executive Chef at the Tarnhouse Hotel in Hawkshead Ambleside, Cumbria, a period during which he was awarded a three-star rosette by the Automobile Association and the Salon Culinaire Gold Medal and named best newcomer of the year in 1992. He also continued to develop dishes that blended Asian and Western flavours in an imaginative way.

These skills made him a natural choice for appointment at the Executive Chef of the Eastern & Oriental Express when it commenced operations in 1993. In the tradition of the legendary Venice Simplon-Orient-Express in Europe, this luxury train offers a unique travel experience between Singapore and Bangkok, and it has been Kevin's responsibility to create a cuisine that appeals to a broad range of tastes with occasional surprising and original touches.

Kevin is fond of saying, "Don't go on the train purely for excursion; go for food". To prove this, he uses skills from all parts of Asia and Europe, making the Eastern & Oriental cuisine a highly distinctive experience, critically acclaimed by a long list of discerning clients as well as food and travel writers from around the world.

Through often associated with so-called "fusion cooking, he is wary of terms as often used today. He says, "There are too many chefs running around trying to interpretate Asian Food without understanding the fundamentals of Asian Cuisine. Something purely does not mix by nature flavour & texture and some things just don't work. When I am asked what fusion food is, I give a simple answer. "The day the coconut fell from the tree and drifted away in the sea is when it started". Look at the "Massaman Curry" sauce from Southern Thailand, for example. That's a perfect example of fusion Thai Food, using spices that are not native from Thailand but which have been brought in from places like India and Indonesia and making them seem new".

A Kevin Cape's dish might consist of Lamb Chop, cooked in European way but then coated with spicy Massaman Sauce and Garnished with Thai Pickled tomatoes. Or a Gently steamed Lobster with a fragrant green curry sauce, normally used for chicken. Or a lemon-flavoured risotto topped by a simple steamed fish served with "Panaeng" sauce.

Such creations have made Kevin one of the Asia's respected Chefs, frequently called on to demonstrate his skills abroad at such places as New York's famous '21' Club and the James Beard Foundation, and the Tokyo's Hotel Okura. He is a member of the Academie Culinaire de France, the Chaine de Rostisseurs (Thailand), the Cercle des Ambassadeurs de L'Excellence, and the Singapore Chef's Association.

Kevin is also Consultant Chef for the Road to Mandalay river Cruise Ship which travels between Pagan and Mandalay in Myanmar (Burma) and is operated by the Orient-Express Company.